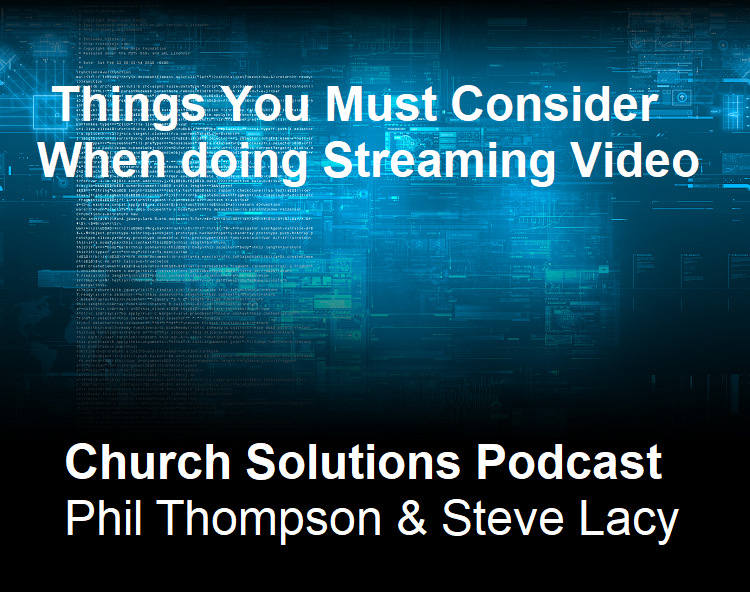 Online streaming for churches has become so simple, that with the benefit of some recommendations, one can create a basic, yet high-quality, streaming video experience for your online congregation.
1. Assess your bandwidth requirements
To be able to stream your services, you will need a wired internet connection. Find out who your local Internet Service Provider (ISP) is, how much bandwidth is available at your facility, and at what cost.

Bandwidth is the amount of data that can be transferred to and from your location at any given time. This includes the video that you'll be sending out live from your location.

A good rule of thumb is to not have to use more than half of your available bandwidth for live streaming. 5Mbps should be considered an absolute bare minimum for streaming.

Because you have a limited amount of bandwidth available at your location, anyone else at your location who is using your connection during your live stream, will also be taking up some of that bandwidth. In certain cases, some of you may only be able to contract for 5-10Mbps, in which case, we strongly recommend not allowing anyone else to use your connection for WiFi or any other computer or mobile device applications during the times you are streaming. This will ensure your message gets to your audience properly.
2. Choose the video camera that's right for you
The video camera is the first link in the chain, and is important, especially for small churches, for two reasons: it's where your video will come from (obviously) and, in most cases, it's also where the audio will originate. I've found that a lot of ministries forget that audio quality is as important as the video quality.

For the purposes of getting started with online streaming, your best bet is to select a 'prosumer' (between consumer and pro) type of camera. This is a high-quality, but middle-price-range camera that will offer you great features, without breaking the bank. With this type of camera, you'll be able to connect the audio source from your front of house mixing board, and send audio and video to the internet as a single stream.
Many churches have gone with a remote controllable camera that is mounted onto a wall or fixture in their sanctuary. This option gives you the ability to have a good steady shot.
3. Consider a video switcher for more professional-looking, multiple-angle streams
Many cameras offer either an SDI output or HDMI output, which can be fed directly to a video encoder (more on encoders coming up) to stream out to your online campus. If you have the budget for it and can include either a computer with graphics, that you can overlay on your video with scripture references or lyrics or a second camera, though, a switcher is a nice piece of gear to have.

The switcher allows you to produce a service more dynamically and include a variety of shots, or videos related to the sermon theme that will keep the audience more engaged.
4. Make sure your speakers are well lit
One of the most important pieces of a quality stream that is often forgotten about is having proper lighting on the speaker or pastor and the pulpit area, that the camera will capture.

At minimum, a ministry needs to consider good, flat, even, front lighting of the subject. If your budget has the room, you should consider mounting lights above and slightly behind the pastor's position, providing good backlighting and separation of the subject from the background.

You should also consider how the speaker's clothing patterns and colors work with the background colors. Fine checkered shirts and ties or plaids can wreak havoc with the pixels in a camera and encoder. The rule of thumb here is to stick with solid colors.
It doesn't hurt to check the white balance of your camera(s), using a white card on the pulpit or a stool prior to services. This ensures true color representation in the stream and on the archive file.
5. Make sure you're being heard
Let's get to audio for a moment, because it's that important.

If at all possible and if you have a front of house audio console with extra outputs, taking the audio from that console is best. If you don't have a separate audio console, there are wireless microphone options that can connect to the camera to provide good balanced audio in the video feed to your switcher or direct to your encoder.

You should consider high quality audio as important as lighting for a good online experience. If the online viewer can't hear the message, you'll soon find yourself without that viewer.
6. You'll need a video encoder
So, what is a video encoder? An encoder is a computer or software program that takes the video feed from either a camera or switcher and turns the video into data, so it can travel over the internet to a video player. You'll need one to get your online streaming started.

Encoders can be software only, and also come as hardware components with software built in. For a beginning ministry, you should consider what resolution the encoder can handle, how many streams it can send at the same time, and how easy it is to operate.
One thing to also consider is archiving. Many encoders offer the ability to record an MP4 video file. That file gets saved, and can then be uploaded into a video on-demand service for delivery to your website for online viewing.
7. Make sure your computer has adequate resources.
If you have an older computer, it will most likely limit you in doing certain things involving streaming video. Recommended is Windows 10, or macOS High Sierra,Intel Core i7 Processor 3Ghz+, 8GB DDR3, Solid State Disk, Dedicated Nvidia Card with 1GB Memory.
8. Getting your more than video to your viewers

Those of you who are starting out, will want to look into Content Delivery Networks (CDN). These delivery networks often allow for good international distribution for a reasonable price.
The price would typically include them giving you a player to embed in your online campus page, statistical data around your viewers (location, viewing habits and such), and other features depending on your needs. Having live chat as well as video is important to connect with those viewing
At the end of the day, a pastor or media minister needs to consider their online campus to be as important to the ministry as their brick and mortar facility.

Ministries delivering quality online church experiences are impacting lives in amazing ways. People are moving to be close to a church they found online. People are driving several hours to be baptized by their online pastor.

Technology is impacting lives with the Gospel and any ministry with an Internet connection can be a part of this revolution.