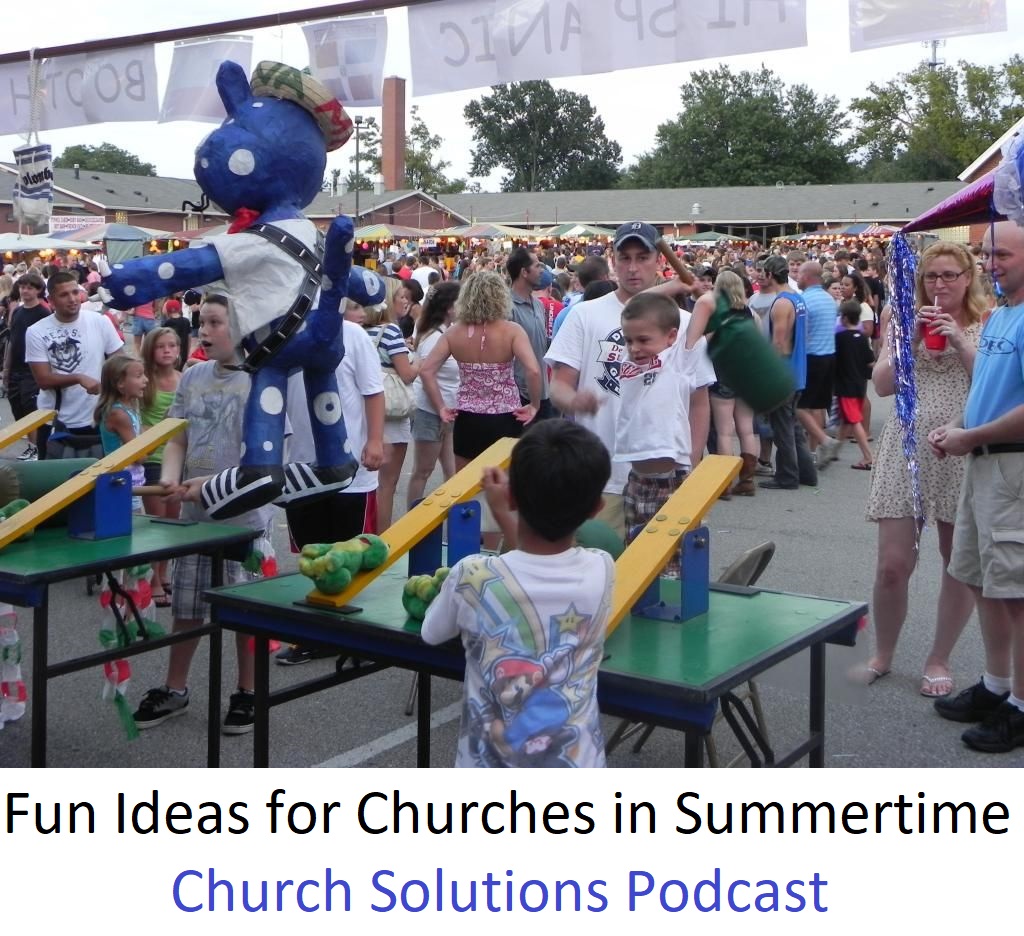 Fun Church Fundraiser Ideas For This Summer
1. Have a church carnival
How to make it fun: Set up booths or tables with games and concessions. You can also set up attractions such as face painting, puppy petting, and—of course—the pastor dunk tank. Pinterest has a bunch of great church carnival ideas to get you started.
2. Sponsor a community yard sale
"One man's trash is another man's treasure," or so the old saying goes. Everyone accumulates stuff they no longer want. You provide the space, the tables, and the advertising, and your church members and neighbors provide the merchandise and manpower. Everybody wins.
3. Host an arts and craft fair
This is similar to the yard sale, except instead of selling old junk, you give the creative folks in your organization a chance to show off their artistic talents. Who knows, you might have the next Bob Ross just waiting to be discovered.
How to make it fun: "Summer fun" might not be the first phrase that comes to mind when you think of arts and crafts, but an arts and crafts fair doesn't have to be like a museum. You can host the fair in the evening when the sun is low and have a band of volunteers entertain the crowd with lively music. You could also invite a local winery or wine store to provide tastings.
4. Partner with your local minor league baseball team
Summertime is all about baseball, and most minor league teams are very fan and family friendly.
There are more than 200 minor league baseball teams spread throughout the country, so chances are that there's one not far from you, and minor league baseball provides lots of good fundraising opportunities such as ticket sales and concession stand takeovers.
How to make it fun: Minor league baseball teams have to try a little harder than their major league counterparts to sell tickets, so they already have lots of fun things in place, like mascots, amusements, and wacky promotions. But if you want to make it even more fun for your group, you could try stuff like wearing matching shirts or picking a particular unheralded player to cheer for as a group.
How to raise money: Check with your local organization, but most teams have fundraising programs in place that allow you to purchase packs of tickets at a discounted rate and then resell them for a profit. Many also allow concession stand takeovers where your volunteers staff the stand and then keep a portion of the profits at the end of the evening. You could also ask if the team would donate any memorabilia to be raffled off.
5. Hold a charity golf tournament
Golf can be expensive hobby, but a charity golf tournament gives golfers a chance to contribute to a good cause while doing something they already enjoy. For other members of your church, this could be considered a special occasion to splurge.
Ask your local courses if they would be willing to work with you on such an event. If your church is small, and wouldn't be able to support a full-size golf tournament, consider a disc golf or mini golf tournament instead.
How to make it fun: Give out prizes for closest to the pin and longest drive, and also silly stuff like ugliest outfit or oldest clubs. Really though, it already has fun built in, assuming you enjoy golf.
How to raise money: In addition to the entry fee, you can also raffle off golf equipment donated by local sponsors, sell barbecue and cold drinks, and set up a general donation table with information on your programs.
6. Organize a chili cook-off
Ah, the chili cook-off. Just hearing the words conjures up a potpourri of aromas and flavors.
The nice thing about chili is that is can be adapted to fit many different needs: spicy, vegetarian, dairy-free, beans or no beans, etc. You can have different categories so that all different tastes are satisfied, and have a judging panel made up of church leaders.
How to make it fun: People will be happy enough while they're eating delicious chili, but you can also make it a BYOB event and have a band made up of volunteers playing live music. If you really want to get serious, you can even request for the International Chili Society to sanction your event.
How to raise money: Come up with prizes, preferably donated by local businesses, then ask each chili master to pay a small fee to enter the contest. You can also charge visitors a "taster's fee" to go around and sample all the delicious recipes. Make sure to set up a cold drinks table. People will be dying for something to cool their tongue after a taste of five-alarm chili.
7. Put on a talent show or concert
There's no doubt that you already have people with hidden talents at your church just waiting to show them off.
8. Have an outdoor movie night
Outdoor movies are a classic summertime tradition. If you have a projector and a screen, all you need to do is have one of the tech guys at your church fire it up and hit play.
How to raise money: Print up fun admission tickets and sell them ahead of time. Sell hot dogs, pizza, and classic movie snacks like ice cream, popsicles, popcorn, candy, and cold drinks. Have a church leader give a speech before the show explaining what you're raising money for and encourage the audience to make additional donations.