Push Technology
---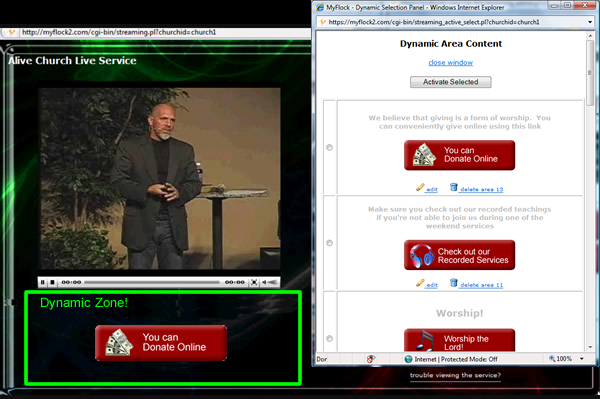 Your live streaming site comes with a "dynamic zone" on the page. You (as the administrator) have a set of pre-defined items that you can insert dynamically onto the live streaming page. As soon as you select a new dynamic item, the web page of all your online attenders will automatically update showing this new content.
So now during the service, you can "pass the plate" by displaying your link to your online donations button, or provide a link to more information on a song during the worship, or provide the sermon notes, or invite online attenders to pray with the web pastor. You can create as many dynamic items as you wish. Your options are unlimited!
Automated Countdown Tools
Every StreamingChurch.tv site is equipped with an automated countdown timer to the next service. Just enter your service times on your admin control panel and the timer will automatically begin counting down to the next service. When that service arrives, it will change it's display to "Live Service Has Begun" for 50 minutes, then begin counting down to the next service listed in the admin area.