Can My Church Do This?
---
Yes! And we will help you every step of the way! Until recently, broadcasting your services live over the internet for the average church was either too expensive or too technically challenging (and often both). With StreamingChurch.tv, we've provided an affordable solution that provides a professional experience for your guests and members that your volunteer staff can operate. A minimum amount of technical experience is required and we're here to help if you get stuck.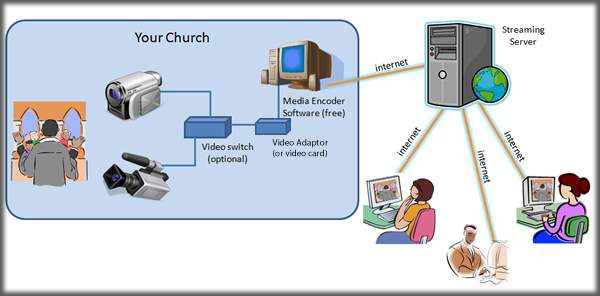 Camera(s)
At your church, you'll need one or more cameras and a computer connected to the internet. For most churches, having cameras that operate well in low lighting are very important for a high quality video signal. If you elect to have more than one camera to film your service, you'll need to switch between camera feeds during the service. With the WireCast encoder or vMix encoder, a software video switch is provided. For other encoders (and multiple cameras), you may want to consider a video switch.
Computer
On the computer where you'll capture the video signal and transmit it to the StreamingChurch.tv streaming server, you'll need an adequate computer and video card. Recently purchased mid-range or above personal computers should be adequate to transmit your video signal. You may need an adaptor to connect your camera to your computer. Many customers use the Black Magic products.
Encoding Software (free)
You'll need to download either vMix encoder, (they have free version), or the Flash Media Live Encoder (download for free - Mac version / Windows version). Another popular encoder is available from WireCast for both the PC and Mac.
You can stream to almost all mobile devices as well as Roku. For more information contact us at [email protected].
Internet Connection
You should have a DSL or faster internet connection at your church to transmit the video signal to the StreamingChurch.tv Live streaming server. You can test your connection speed here. You should have at least 800 Kbps upload speed or greater.
Required Equipment
At a minimum, you'll need a camera, computer with an internet connection and a means to connect your camera to your computer. Based on your budget and quality requirements, your equipment expenses can vary significantly. We've provided a quick visual resource to get started that has some recommendations for equipment in the "good, better, best" categories.
Streaming to iOS and Android devices included!